Swiss restaurants in Montreux
As an international city and the capital of jazz, Montreux has much to celebrate for all gourmets! Traditional fondue by the lake, delicacies in the heart of the Old Town, starred restaurants in the vineyards, trendy spots and fusion food, Montreux's gastronomic scene offers an exceptional diversity.
You'll have to stay long enough to sample it all! With over 200 restaurants to choose from, the town has much to offer in addition to its Swiss specialities. With so many culinary addresses to choose from, check out our guide to the best restaurants in Montreux, experience guaranteed!
The best restaurants in Montreux
Restaurant Le coucou
At an altitude of over 1,200 metres, and only a few kilometres from the town of Montreux and the banks of Lake Geneva, Le Coucou offers a gourmet, traditional and inspiring escape.
Le Coucou offers fine brasserie cuisine as well as Swiss and mountain specialities. It is located in the building of the former Hostellerie de Caux.
In a mountain chalet setting that recalls in part the glory days of English tourism in Montreux and Caux at the end of the 19th century, Le Coucou restaurant offers a wide and varied menu. The menu combines classic brasserie dishes with typical mountain dishes.
Plates of mountain products are available throughout the day. At lunchtime, the menu is a little smaller with a dish of the day offered. As for wines, the restaurant offers a wide selection of quality bottles from Bordeaux and Italy. There are also some local craft beers.
The terraces allow you to eat while enjoying a breathtaking view. With a view of the Swiss and French Alps, and Lake Geneva for the lucky ones.
Restaurant le Palais Oriental
When you open the doors of the Palais Oriental, you will be invited to a fabulous journey of the senses to the heart of the Thousand and One Nights. Immersed in a majestic natural setting on the shores of Lake Geneva, this large Moorish-style building invites you to discover the culinary specialities of Iran, Lebanon and Morocco, right in the heart of Montreux!
With more than 30 years of experience, Le Palais Oriental has always been committed to meeting the needs of its customers and has made the most of its experience in fine Persian, Lebanese and Moroccan cuisine. In an intimate and warm setting, discover a world from elsewhere.
Tango Restaurant Grill
An authentic little corner of Argentina awaits you at the Tango Restaurant Grill in Montreux. Melt-in-the-mouth Argentinian meat, delicately grilled over an open fire by a "parrillero", decoration in local colours and a warm and intimate atmosphere make each visit to Tango the promise of a journey.
Tango Restaurant Grill is more than a restaurant. It is an invitation to discover the culinary traditions of Argentina, in an authentic atmosphere and decor.
Chez Bilia
Chez Bilia is an Indian restaurant located in the centre of Montreux which offers a cuisine originating from Kashmir in India. All dishes are home-made with fresh products. Their flavours allow the clientele to travel, while being adapted to European palates.
The restaurant's menu offers a wide range of North Indian cuisine. Meat or vegetarian, with naan, tandoori, massala or tika. The terrace in front of the restaurant allows you to eat while enjoying the view of the Swiss mountains.
Mai Thai
Mai Thai has always made it a point of honour to offer gourmet cuisine, with a focus on high-quality, traditional preparations.
Thai cuisine is recognised as one of the most tasty and refined in the world. Whether spicy or mild, the harmony of flavours and colours is found in every dish. The originality of this cuisine lies in the use of Thai spices. The Thais attribute to all these spices gustatory properties but also curative virtues.
The restaurant has a terrace on the shores of Lake Geneva, and this view makes the tasting even more exciting.
Traditional Swiss Restaurant
Swiss Restaurant in Montreux | Le Museum
Restaurant le Museum is a renowned establishment dating back to 1948, when it also functioned as a bar/restaurant. It has a strong affiliation with the Montreux jazz scene.
This Restaurant is a cheese mecca that should not be missed in Montreux. We offer you the best local products of the region with quality cheeses such as raclette, half and half fondue, tomato fondue, boletus fondue and many other recipes. We will amaze your taste buds.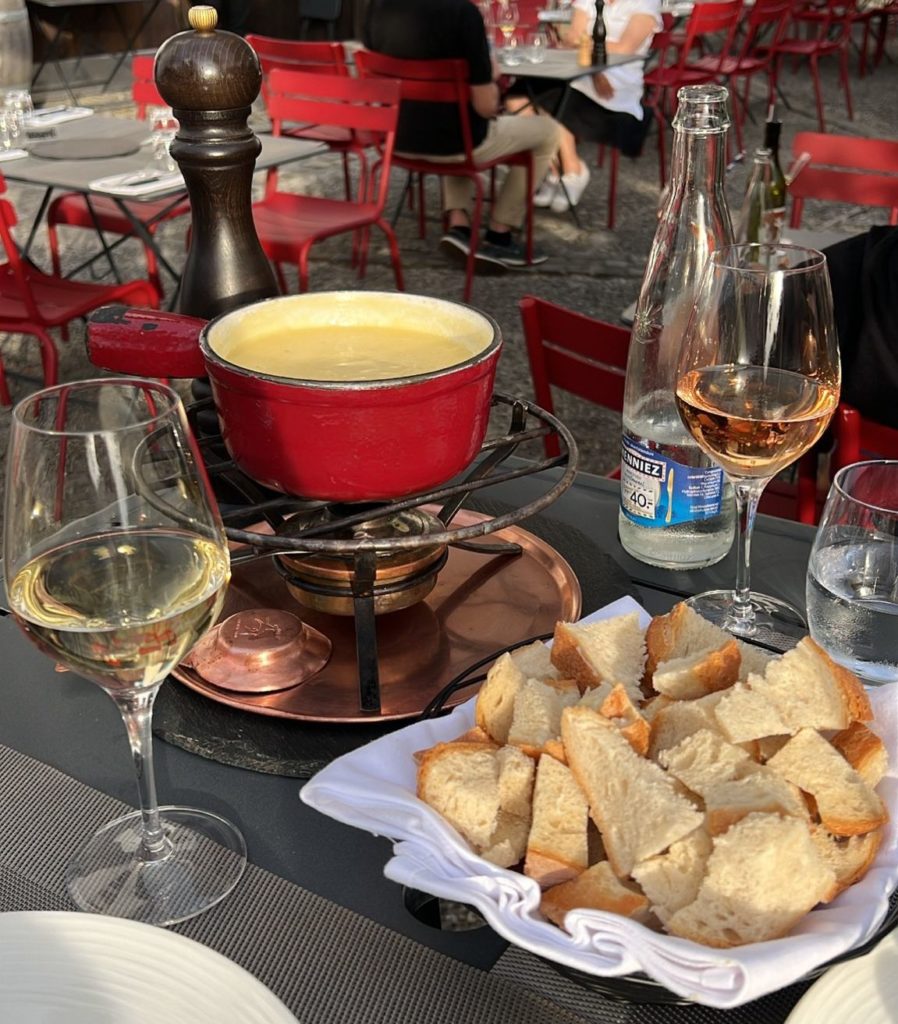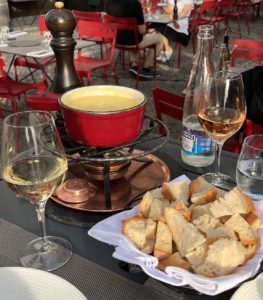 If your main quest is to discover traditional Swiss cuisine, then you have come to the right place.
In addition to the traditional Swiss cheese dishes, we also offer a steakhouse section with charbonnade. This is one of the most famous specialities of our restaurant, a unique dish that cannot be found anywhere else in Montreux.
The Charbonnade consists of a charcoal table barbecue, on which you can grill the best pieces of beef fillet. Once they are well grilled, they are served with five homemade sauces. This is one of our guests' favourite dishes, delicious and original, to share with family and friends.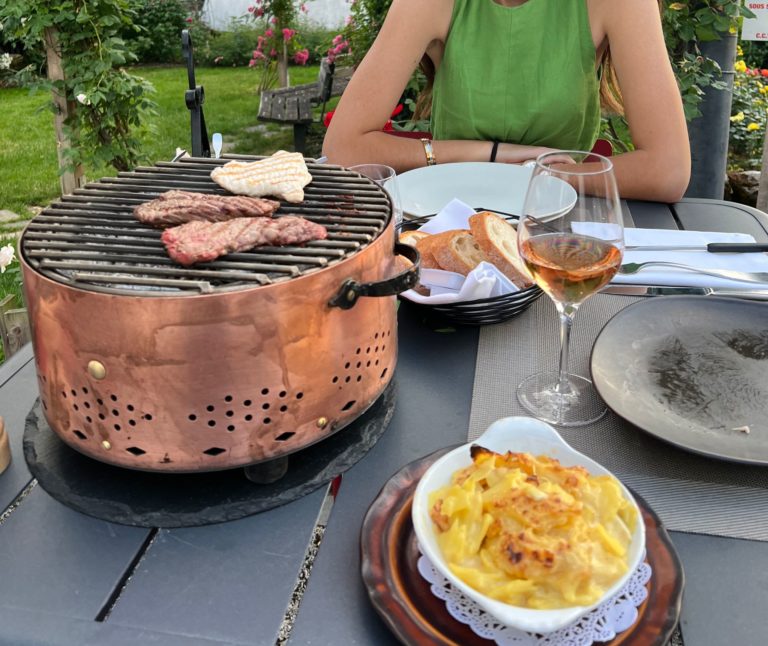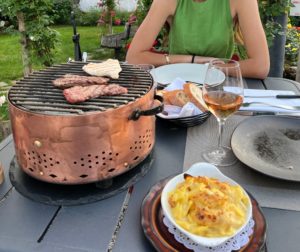 As for desserts, we have a wide choice, but our chocolate fondue remains the favourite dessert of our guests.
In addition, you can enjoy our delicious traditional Swiss dishes on our terrace with a magnificent view of the mountains and Lake Geneva.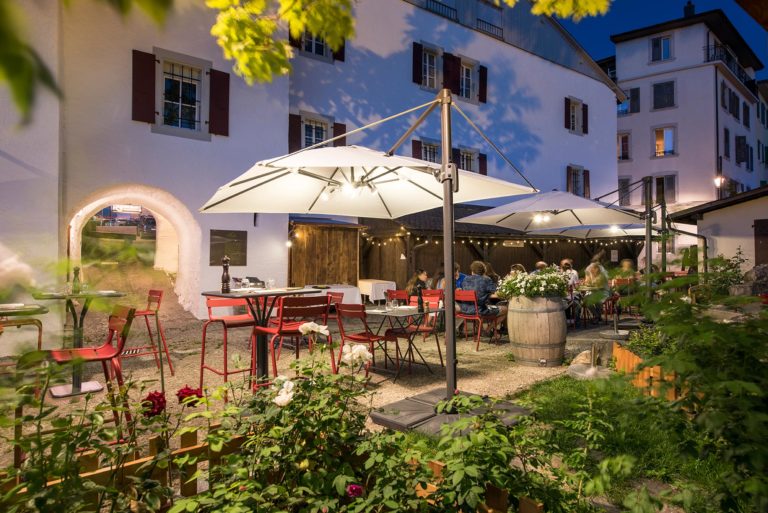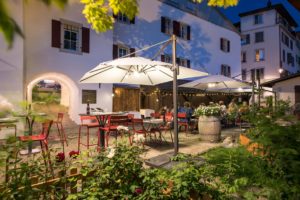 Whether you are looking for a refined dish, in a warm and friendly place, a place to celebrate a specific event, Restaurant le Musuem will be happy to welcome you. Follow us on our social networks !